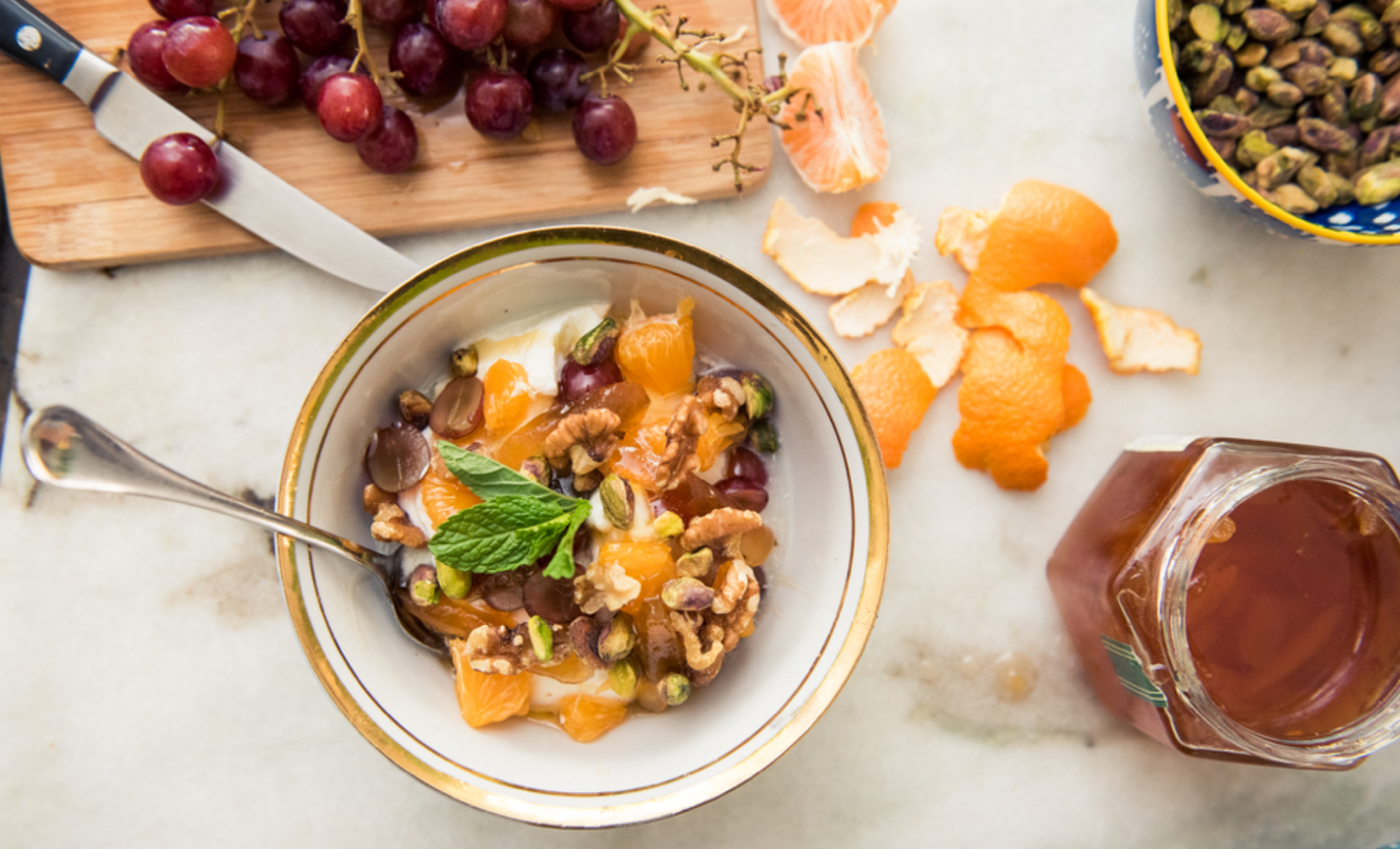 THIS HEALTHY/EASY BREAKFAST WAS INSPIRED BY SPRING
The key? Seasonal ingredients.
Peel a tangerine in your kitchen, and its scent instantly transports you to some exotic locale along the Mediterranean.
And it's probably because this prized jewel of the citrus family is said to originate from Tangier, Morocco (where it gets its name), and can be found growing throughout the Mediterranean—especially in Spain, Greece, and Turkey. I love the intense color of these little beauties bursting from the farmers' market stalls still with their leaves attached. Luckily, varieties of the tangerine family also grow locally in the U.S., so I always keep a bowl of them handy during season, which runs from late autumn to spring. They look like a perfect still-life painting almost too pretty to eat, but who can resist their sweet, juicy goodness? Tangerines are most commonly peeled and eaten out of hand as an easy snack, but the fresh fruit can also be used in salads, desserts, and main dishes. And don't toss their peel—they can be dried or candied and turned into jams, sweet spoon desserts, or covered with chocolate.
As we approach spring, let's take advantage of the last days of tangerine season with an easy yogurt dish inspired by the colorful markets of the Mediterranean.
 LABNEH WITH TANGERINES, HONEY, PISTACHIO, AND FRESH MINT
INGREDIENTS
¾ cup labneh or strained Greek yogurt
1 tangerine, peeled (per bowl)
1 tbsp honey
¼ cup roughly chopped pistachios
1 sprig fresh mint, torn and used as garnish
DIRECTIONS
In a decorative dessert bowl or colorful cereal bowl, begin to layer your ingredients. Start with a few tangerine wedges on the bottom. Remove the skin along the membrane, only using the fleshy part of the fruit. Add yogurt, then top with remaining tangerine wedges, drizzle honey, and top with chopped nuts. Garnish with mint.