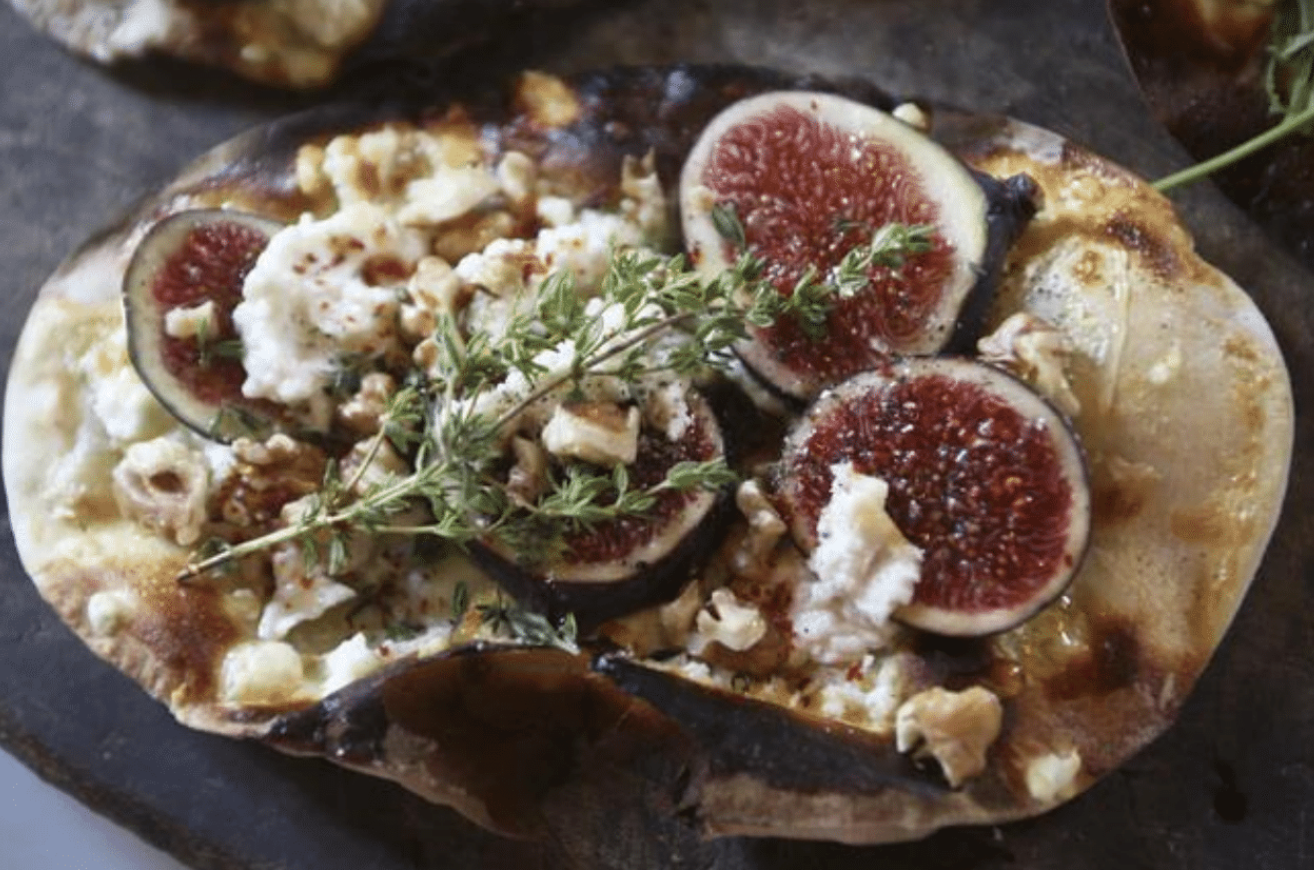 Anastasia, aka Mrs. Mandolin, shares one of her go-to seasonal recipes for Soho House Instanbul.
"I love to eat figs fresh and cold in the morning or as an evening snack with local cheese and a glass of wine, and they're also wonderful to cook with. I love to bake them on crusty flatbread with salty cheese and pungent earthy herbs: the sweet, jammy taste contrasts beautifully with the salt."
"I hang onto the taste of summer by getting my fill of figs during the month of September. Turkey is the number one country in the world for fig production, and I take full advantage whenever I'm here."
INGREDIENTS
2 packets (1/4 ounce each) of active dry yeast
2 tsp of sugar
1/4 cup of olive oil (plus more for bowl and brushing)
2 tsp of coarse salt
4 cups of organic all-purpose flour (spooned and leveled, plus more for work surface) 
4-6 fresh Turkish figs, thickly sliced
1/2 cup of crumbled feta
fresh tyhme (removed from stem and a few sprigs for garnish)
1/4 cup of chopped walnuts or hazelnuts 
1 tsp of olive oil
1/4 tsp of aleppo pepper or any spicy pepper flake
pinch of sea salt flakes
cracked black pepper
drizzle of local honey
INSTRUCTIONS
Pour 1 1/2 cups of warm water into a large bowl; sprinkle with yeast and let stand until foamy for about 5 minutes. Whisk sugar, oil, and salt into the yeast mixture. Add flour and stir until a sticky dough forms. Transfer dough to an oiled bowl and brush top with oil. Cover bowl with plastic wrap and set aside in a warm, draft-free place for about 1 hour, until dough has doubled in bulk. Turn out onto a lightly floured work surface and gently knead 1 or 2 times before using. Take a round ball of dough and roll out flat onto lightly floured surface.
Preheat oven to 400°F. Once temperature is reached, set a pizza stone or sheet pan on the center rack of the oven. Place the flatbreads on a clean, flat work surface. Drizzle 1 tablespoon of olive oil on each flatbread and equally divide ingredients over each one. With a large spatula place the flatbreads in the oven on the stone or sheet pan and bake until the surface is bubbling and the bottom crust is turning a dark golden color and appears crispy (15 minutes or less). Remove flatbreads from oven and serve. Top with a drizzle of olive oil and local honey.
"My fig and feta flatbread is so easy to make and sure to please. It's a quick snack or easy appetizer for your next get-together." — Anastasia Koutsioukis