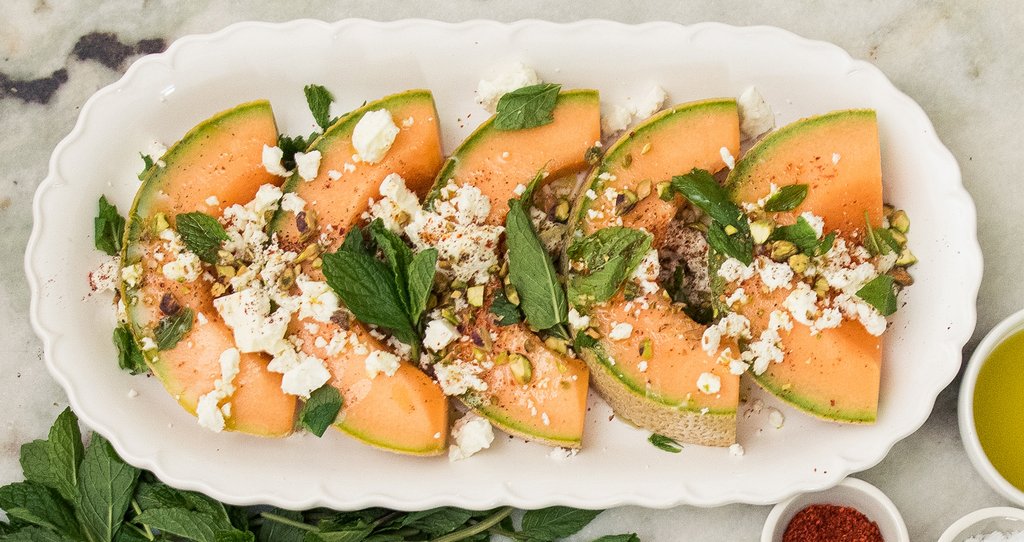 Typically, when we think of a Mediterranean melon salad, we think of watermelon with feta which is amazing, no doubt – and a Mandolin summer staple. In fact, in Greece and in Turkey we eat feta with all types of melons. One of my favorite melons is cantaloupe because of its sweetness. It is abundant in the summertime, and when you pair it with feta you get this sweet, briny/salty flavor combination that sounds unusual but is actually very complimentary. To add a little spin to this traditional pairing, I incorporated crunchy and smoky elements by combining chopped pistachios, sumac and smoked pepper flakes which I always have in my pantry.
Cantaloupe looks and tastes like summer and the season for them in Florida runs from March through July. For the rest of the country melon season is just beginning now, and runs through all of August, and if you are lucky enough to travel to the Greek Islands you'll get the best version of these beauties.
You can eat this salad in the morning for breakfast, or as the perfect pairing for your next barbeque, sure to impress your friends, and will transport your taste buds to the Mediterranean.
I was so excited when Coveteur asked to shoot me at my home a couple of years ago. We didn't really plan what I would be cooking, and just figured I could put together an interesting dish. It turned out that we created a few options based on what I had on hand in my fridge. Next thing I know I was kicking off my heels and getting creative. I whipped up this salad which is a combination of some of my favorite ingredients. Now that it is the beginning of melon season again, I figured I would bring it back for you all to enjoy.
INGREDIENTS:1 small orange-flesh honeydew melon/cantaloupe
(Tip: When buying a melon, the fruit should have a blossomy
smell to it and be slightly soft to the touch to ensure ripeness and sweetness.)
3/4 cup Greek feta cheese
1.5 tablespoons extra-virgin olive oil
1/2 cup pistachios
1/2 teaspoon sea salt (or to taste)
1/4 teaspoon sumac
1/4 teaspoon (generous pinch) Aleppo pepper
1/4 teaspoon smoky pepper (urfa pepper/chipotle or smoked paprika)
Drizzle of Greek thyme honey (optional)
Small bunch of fresh mint (about 10-12 leaves)
PREPARATION:
Cut the melon in half and scoop out the seeds with a spoon. Take half the melon, and cut in quarters. Slice the melon in half-moon pieces about 2 inches thick, and assemble them on a plate. Take a small slab of feta and rinse it with cold water to remove the brine. Crumble the feta with your fingers in imperfect chunks over the melon, then chop the pistachios in fine pieces and sprinkle over the melon. Next, drizzle olive oil over the melon and feta, and finish with a sprinkle of sea salt or maldon salt and spices to taste. If you like heat, you can be more generous with the Aleppo pepper. Lightly drizzle a touch of honey over the dish, and top with roughly torn mint leaves. Use the remaining leaves as garnish.